Ranch Ukulele Guitar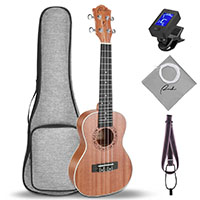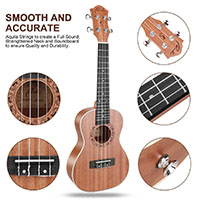 Ranch Ukulele Guitar bunndle with Gig Bag, Digital Clip-on Tuner,Nylon String,Strap,Polishing Cloth
Ukulele are a great instrument for kids, not only are they relatively inexpensive, they are extremely versatile and can be used to play almost any type of music. Learning to play an instrument can help kids improve brain function, relieve stress and learn to communicate their emotions through music. Best of all, knowing how to play the guitar is incredibly fun.
Ranch ukulele that features a Sapele top, back and sides. The Body is bound with Ivory binding giving this entry level ukulele an elegant appearance. Unlike most instruments the Ranch Ukulele is designed with an Oxhead Carving Rosette and satin finish that make this an exceptional ukulele for the both beginners and enthusiasts alike. Completely handmade.
Ranch Ukulele Key Functions:
ALL-SAPELE BODY:Sapele Top, Back, and Sides, An acoustic instrument body fashioned from sapele exhibits a pleasingly warmer and darker tone than that produced by more conventional wood combination
ROSEWOOD BRIDGE AND FINGERBOARD:With a pleasingly dark look, solid strength, smooth feel and excellent tonal quality, rosewood is a longtime standard for crafting quality acoustic instrument bridges and fingerboards, from the mightiest jumbo guitar to the most diminutive ukulele.
SYNTHETIC BONE NUT AND BRIDGE SADDLE:At both ends of the scale length, modern synthetic nut and bridge saddle materials alleviate dead spots on the fingerboard and deliver pronounced tonal clarity and consistency.
Soundhole Oxhead Carving Rosette and Ivory Body Binding

Ranch Adding value to your purchase, Ranch Ukulele bundles your instrument with necessary accessories. Everything you need to start playing immediately comes in one box. Save yourself the hassle and save some money while you're at it. A gig bag is included so you can keep your instrument safely packed away when you're on the go. An easy-to-use clip-on tuner is included so you can keep your instrument in tune. A standard ukulele strap can be very comfortable and spread the weight of the instrument across your whole back and shoulder. An Ranch polishing cloth is included so you can keep your new instrument in mint condition.
All Ranch ukuleles come with 4 Aquila strings.
About Ranch Guitar
Established in 1993 as a guitar parts manufacturer, RANCH Guitars has since then grown into a business that provides musicians, DIY builders and wholesale dealers with high quality gear that won't hurt their wallet. RANCH Guitars started out primarily as an online company through our Amazon store, and has grown steadily thanks in large part to our dedicated service and the quality products we offer.
In January of 2014, we opened our very first retail/wholesale warehouse in the San Gabriel Valley. Since then, we have seen a large growth in interest for the gear that we carry and that enthusiasm is what we thrive on.
Our goal is to provide our customers with unique options not available in other retail stores. Whether you're looking to put a guitar together yourself from scratch or you're a new retailer yourself, RANCH Guitars has what you're looking for at the right price.